Improve Your Digging Skills With These 4 Digging Volleyball Drills
Want to know how to improve your digging skills successfully this season? Start with these 4 digging volleyball drills that'll prep you for your club season.
I like to regularly do digging volleyball drills every week in my clinics, semiprivate and private training sessions as all position training drills which I do  because this practice supports a huge part of what my coaching philosophy is about.
I developed a big part of my coaching philosophy around my belief that players should not be pigeonholed. 
I firmly believe that my tall middle blockers and outside hitters need to be as good in the back court as they are in the front court. 
Ask the tall guy or girl on a middle or high school team and 9 times out of 10 they'll say their coach only sees their height and they're automatically put in the middle and hardly ever get to do anything in the back row. I hear about it all the time with my clients.
Same for a libero middle or high school player who may be a really talented hitter but rarely gets put in games to hit or even block. 
I believe that middle and high school is the time to learn and become good at all the positions regardless of height. Period. 
If you're a good coach who knows the game you can teach tall players to pass, serve and play defense and you can teach smaller players to hit point scoring hard hits and smart shots and to time their block so they touch or even stop a lot of balls at the net. 
Now, if you're that "coach" who'd rather harvest players and just recruit/ask/find/discover the players you think you need that already fit the mold of what you want your team to look like...then you'll probably always have tall players in front..and when they rotate to the backrow put your smaller players in the back.  
I like to teach players the whole game and not parts of it so they can walk onto any court and be good at all six skills. 

Which means that I always include defensive themed (okay that's a funny phrase) digging volleyball drills in pretty much every session so my setters, middles and pin hitters get a ton of quality defensive touches and reps.
Remember my goal in training is always aiming for a minimum of 500+ reps in an hour with the intention of touching a 1000 balls in a session. 
Totally doable if you're a focused, disciplined player intent on doing more work in practice and less talking ...and especially if you have a coach who shares and embraces your goals of improving your skills quickly.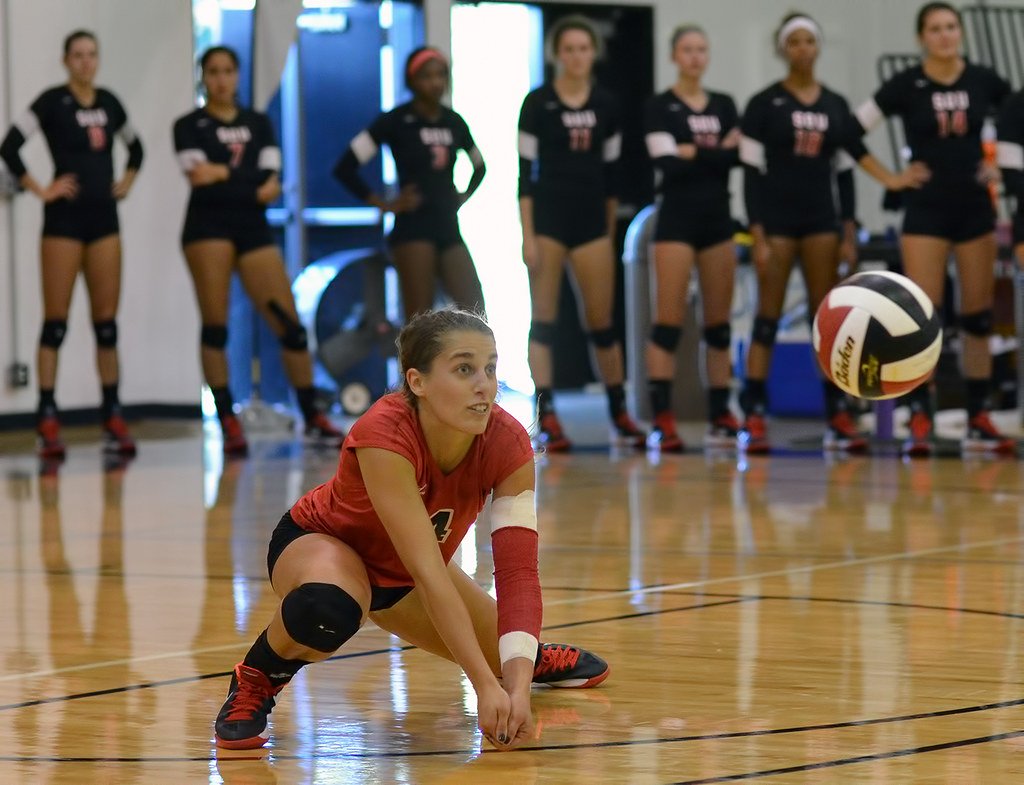 If you are the defensive specialist or libero on your team, or a player looking for individual digging volleyball drills, then bookmark this page for a selection of new defensive technique drills to try. (Photo Al Case)
Digging Volleyball Drills Like The Three Hits And A Tip Drill Work On Digging Precision, Early Platform Angles And Running Down Balls
This is for libero volleyball training but I love to add one or two of my outside hitters in it so they get comfortable playing the left back position in case they need to later on. 
I like to place my guy assistants at the net so Vegas players who train with me  get used to building courage and confidence digging bigger, taller stronger players with heavy hitting hands. 
That's who they'll play against when they keep advancing to the next level so getting used to that in practice is where it starts. 
How do we do the three hit one tip digging volleyball drills?
Three hitters in left middle and right front with a line of diggers one in left back and two waiting on deck. 
Diggers stay left back and dig three in a row ..working on delivering a playable ball 20 feet in the air and near the ten foot line. 
(Watch Adlai, Kenny and Alex as hitters attacking in a rhythm to the working digging group of three who then look to get a tossed ball from me that they have to run down.)
It takes a lot of practice reps to be able to defend a ball back up from the back row to the front row.
That's a huge focus on why I do these drills in each practice. 
Digging Volleyball Drills Like The Cross Court Digging Partner Drill Work On Narrowing Your Focus On The Ball
So a lot of the partner warmup digging volleyball drills are usually done with one person on or near the ten foot line and one person right in front of them near the endline.
I love to mix things up and have the partners do their warmup passing, setting and warmup digging volleyball drills in groups of four facing a cross court partner. 
This forces pepper partners to narrow their focus on reading the ball early and accurately in the middle of a lot of activity going on around them that could pull their focus from the ball.  
I find that inserting some organized chaos in some drills helps players increase their levels of concentration and focus on the things that really matter. 
Digging Volleyball Drills Like The Coach On One Continuous Digging Drill Works On Digging A Hard Hit Repeatedly To The Target
Kenny (hitting) directs ball after ball to izzy who's working on what angle to present her platform arms 
and Adlai (digging) work on the very advanced version of the hitting and digging drills we do in Breakfast Club.  
I like this coach on one digging drill because it gives you, the digger, multiple chances to correct your angled platform, so if you don't get the first dig to the target you can adjust your platform quickly and try again on the next hit.
I use to do this drill ALOT when I played in high school and in college and I'd challenge myself to get more and more playable balls to the target before I could stop doing the drill. 
That's the mindset I want my players to have. For the first time if I only do three in a row then the next time I do four and then the next time I do five, etc. Each one done with the correct technique and with lots of ball control. if it doesn't get to the target then it doesn't count. 
Remember there are two ways to do this drill.

Your coach can have you dig the ball back to them or they can have you dig the ball back to the setter's spot which builds up muscle memory so this becomes an automatic move when you're digging in a game.  
Digging Volleyball Drills Like The Messy Pepper Digging Drill Works On Digging Fast Paced Balls That You Have To React To Quickly 
Once or twice a month I like to have my players do messy pepper drills. What I mean is players can use one arm, one elbow, left or non primary hand, palm of hand, chicken wing and other body parts to get the ball to your target. 
In this "be ready for anything" drill players are permitted to push lift or tip a ball anyway they want and their partner has to get it back to them.
The goal in doing these non-traditional defensive technique volleyball digging drills is to work on reacting to crazy balls you may get in a game. 
Do You Follow Me on Instagram?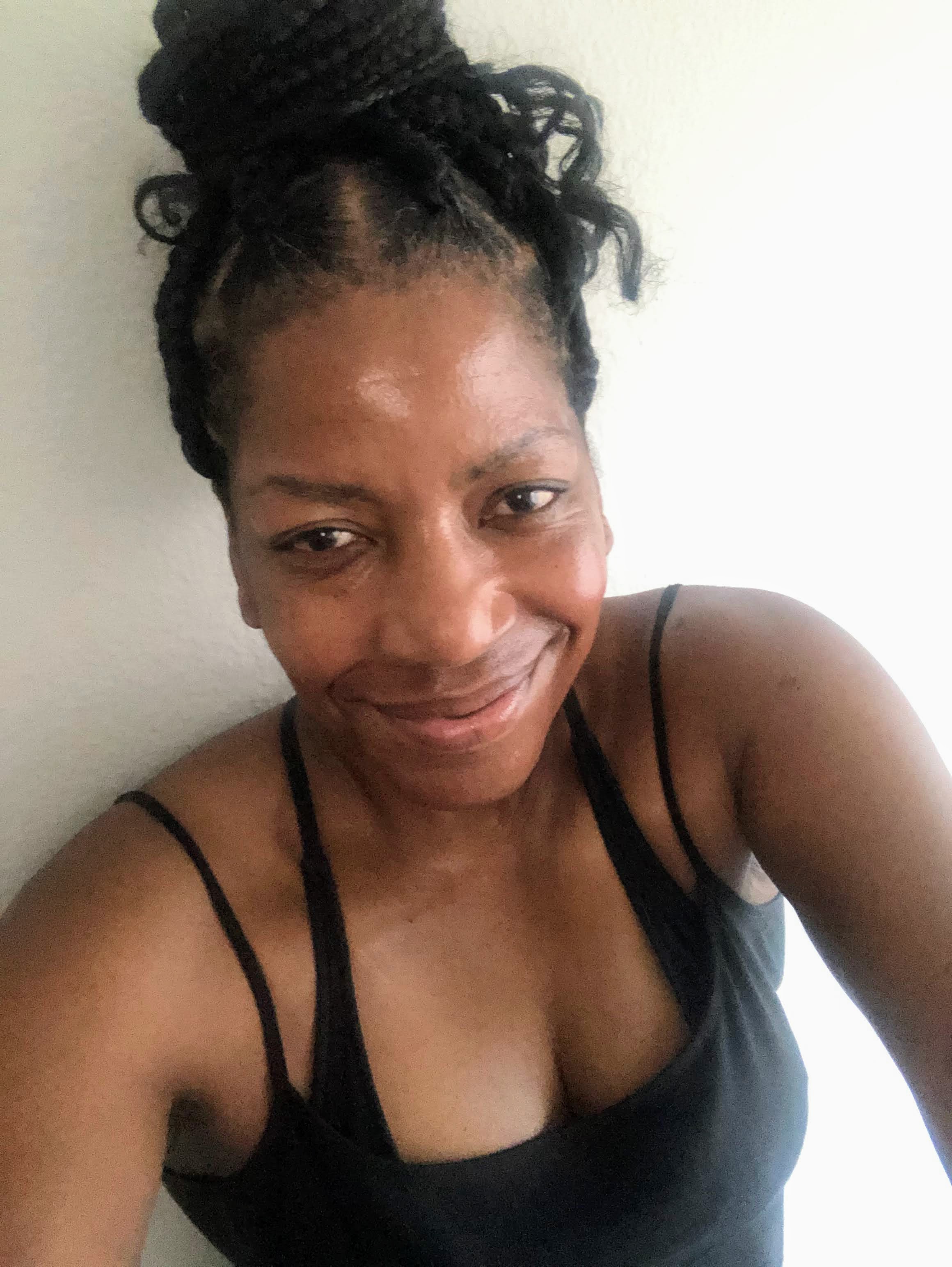 Improve Your Digging Skills With These 5 Digging Volleyball Drills i like to do in my Coach April practices.
Follow me on Instagram @coach_apchap to improve your game even faster!
I share alot of individual, partner and easy-to-do volleyball serving drills we do in class with my followers.
Many of these volleyball practice drills you can do at home by yourself or try at your next practice with your teammates.

If you're a B team or JV player trying to make varsity next year...your goal should be to complete 1000 reps a day of at least three of the basic skills on your own...volleyball passing, serving and setting should be at the top of the list.