How To Spike A Volleyball With Power Like Pro Players Do
Spiking a ball takes an aggressive attitude, a strong spike approach, quick armswing, developing proper volleyball hitting techniques and knowledge of weak spots on the opposing team's court.
When learning how to spike a volleyball there are several strategies that hitters can use to get the ball past the opposing team's block in order to score points.
Like professional hitters do, front row spikers should learn how to spike a ball through the seams of the opposing team's block.

To be an effective front row volleyball attacker, you have to adopt a fearless and aggressive attitude when it comes to spiking the ball against a two person block put up by the opposing team.
Your confidence should grow and develop as you do lots of spiking drills in practice as you repeatedly practice how to spike a volleyball aggressively.
It's in practice where you need to see the same types of situations that you will expect to see in a game.
Yes, of course you should be practicing against a single blocker because in a one-on-one situation where there's one hitter hitting the ball against one blocker, then the hitter should always win.

In this case, the hitters have the advantage because they still have more court to hit to and one blocker can only take away only so much area.
But if you want to further develop into a great hitter  and learn how to spike a volleyball past a big block then you need to practice spiking against a two-person block on a regular basis.
As a spiker you have to believe that you have the advantage against  the block and in a one-on-one hitting-blocking situation, you, the volleyball hitter has the advantage.
In a two-man block vs. one outside hitter situation, the hitter can have the advantage if they use a few strategies to help them maintain their leverage over the block. 

First, an outside hitter has to change her attitude about her ability to "beat the block."
I can't emphasize this point enough. You have to be confident and you have to be aggressive on every attack after you've learned and can perform regularly the basic skills on how to spike a volleyball. 
The player in the outside hitter position can be compared to players in the running back position in football and players in the forward position in basketball.

The players in these three positions are counted on to score points for their team, so they will get the ball from their other teammates the majority of the time.

That's just a fact, the setter in volleyball is counted on to deliver the ball to hitters, the middle blocker is supposed to block the majority of balls and if you are a hitter then you will have to accept the fact that spiking the ball in order to score points for your team  is what you will be counted on to do for your team.
Spikers are depended upon to score points and to get sideouts with balls that are set to them, that aren't always perfect. 
Learning Proper Volleyball Hitting Technique Starts With Your Attitude
This means that outside hitters need to have major confidence in their spiking skills and to do this they need to have the mindset that no one is going to be able to block them.
Your confidence level needs to be the same no matter what type of block is in front of you and you need to believe that a two-person block can't stop your hits and definitely a one person block won't stop your volleyball hits. 

If you do get blocked, then you need to believe that it was due more to something that you can change  or correct with your spiking technique or strategy and not necessarily something that the opposing team's blockers did. 
---
Sophia works on aggressive hitting and digging in semi-private training practice. 
---
Its normal that at times hitters will glorify the opposing team's blockers by giving them more credit than they are due, when they get blocked at the net several times in a row.
It's typical for a player in this situation to begin thinking "Oh this is an amazingly big effective block."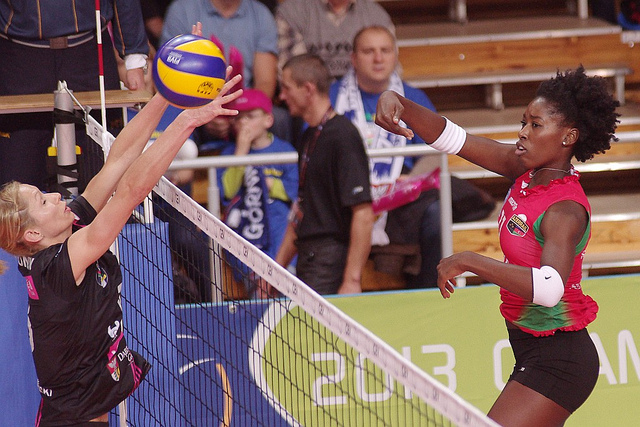 How To Spike A Volleyball: You need to change your spiking strategy to exploit the weaknesses in the block.
Instead you need to change your spiking strategy to exploit the weaknesses in the block.
So this could mean you need to make an adjustment to your spike approach timing if you aren't seeing the block when you contact the ball for your spike.
Increase Volleyball Hitting Accuracy By Making Adjustments With Your Spiking Hand And Where It Contacts The Ball
Or if you are getting blocked, you may need to reach higher because you are letting the ball drop too low before making contact with the ball.
Or if you are hitting the ball straight ahead, maybe you need to start hitting the ball at an angle to avoid hitting the ball directly into the block.
More Ways to Increase Volleyball Hitting Accuracy
One of the most effective ways to learn how to spike a volleyball for front row hitters is to look for holes in the seams of the opposing team's blockers.
The seam is the air space between blockers, usually between the middle blocker and the outside blocker who is blocking you.
Be confident and fearless when aiming your spike for that space between the two blockers, especially if you see that the outside blocker is late in closing the block.
You should aim for that seam or that hole in the block when both blockers don't jump together in unison, meaning one blocker is going up while the other is going down.
If you are hitting a "go" set or a "shoot" set which is a lower, faster paced medium height ball set to the outside antenna, then aiming your spike for the block's seam is a very good option because the middle blockers are often late getting to the outside blocker which leaves a hole for you to aim for.
When you learn these steps on how to spike a volleyball, once you've gotten the technique down, then all you  need to do in practice is practice hitting aggressively!. 
Meet T.T. Mugb, aka "Things That Make U Go Boom"
Lion and Ouside Hitter 
on 
VolleyBragSwag's 
All Beast Team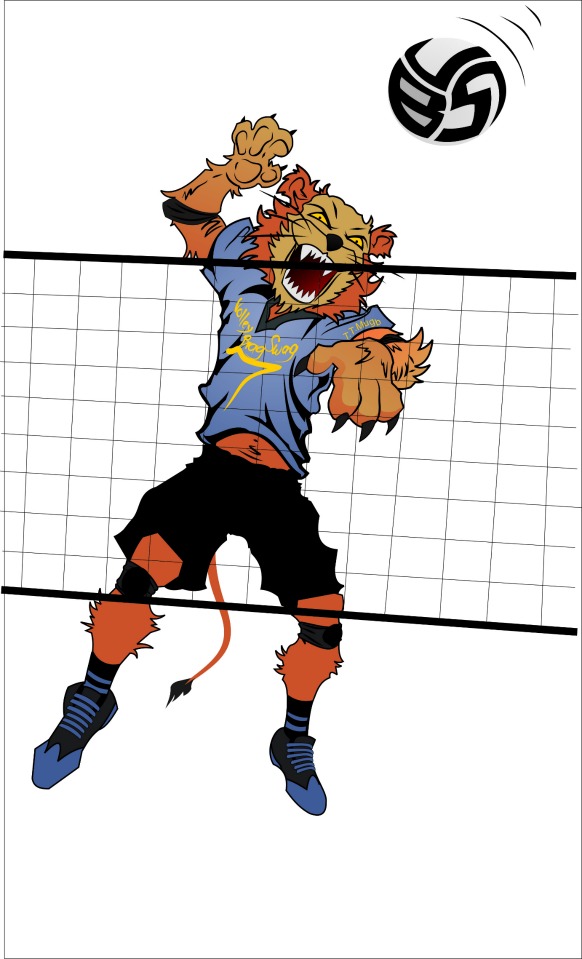 How To Play Volleyball:
Where Do You Go From Here?
Where do you need to go now? Here are three options: 
Learn more about How To Spike A Volleyball by checking the links in Related Links section.

Follow the suggested reading on our Sitemap page

Learning How To Play

 (Sitemap)

Or visit the pages in the How To Play Volleyball 

section in the 

drop down menu at the 

top of the page

.