Volleyball Hitting Drills For Individual Spike Training
Score more points with your spike attack hits!
Volleyball hitting drills designed to help you improve how to spike a

volleyball. 
Hitting the ball hard over the net is the first thing fans and players think of

about volleyball and its the most popular skill of the game which
makes it so spectacular and fun to play and watch. 
And let's face it, for those parents reading this, if your daughter knows

how to spike a ball, it's just a great accomplishment and a really cool
thing to see her do!
Right? 
Front court hitters whether they are on the left, right or in the middle must
be able to hit a ball hard enough so they can get it 
a) first past the opposing team's block and then
b) past the opposing team's back row defensive players so the ball hits the floor. 
One of the first important reasons to do volleyball hitting drills is to
develop enough power and a quick armswing to hit  the ball past the
block and past the defense.  
In order for your team to score a point with your spike attack, it requires
you to become better in practice with your lower body footwork,
combined with your upper body arm swing technique along with your
spike approach timing to the ball which will vary depending on the set
you plan on hitting. 
Outside Hitters
Outside hitters can be compared to running backs on a football team or
forwards on a basketball team. 

Their job is to score points especially so for the left side hitters. 
They are required  to "put the ball" on the floor for their team and
they have to learn how to do so in perfect and imperfect situations.
If the outsides get a perfect set, which is also called an "in-system" set,
then the expectation is for them to generate enough power with the
momentum they generate from their spike approach and quick
arm swing to put the ball on the opposing team's  floor. 
And if they get an imperfect set, or an "out-of-system" ball the
expectation is the same...to do something smart with the ball so it gets to
the opponent's court floor for a point. 
Another important reason to do certain volleyball hitting drills is to
understand when to hit the ball hard and when to hit the ball smart. 
Smart volleyball hitting means to practice knowing when and where to

hit certain areas of the court, especially when you get an out of system
set.  A hitter always has options, you just need to know what they are. 
The outside hitters are called upon to terminate the ball.
Yep, some of the nicknames for the outsides include "cannons"

"bombers and "terminators", because their single most
important job after the ball gets passed to the setter is to put the ball on
on the opposing team's court floor.
As a professional left side hitter, I trained to hit both the perfect "in-system"
sets and the imperfect "out-of-system" sets.  
My role as a left side hitter was that of a "vacuum cleaner"...I was
responsible for picking up and putting away all types of balls and all
types of sets.. that meant everything, the good stuff and the trash. 
Even if I got a ball set to the outside that was too low, or too fast, or too far
off the net, it was still my responsibility to do something with it so that I
could score a point for my team. 
I expect the hitters I train on high school and club teams to adopt the
same mindset.
Certain volleyball hitting drills are designed to help players develop an
aggressive mindset when they go up to hit. 
Why Left Side Hitters Usually Receive More Sets
The setter, when she is at the net waiting for the passers to pass her the
ball and is about to run her offense, is at the net, facing her left side
outside hitter and middle blocker.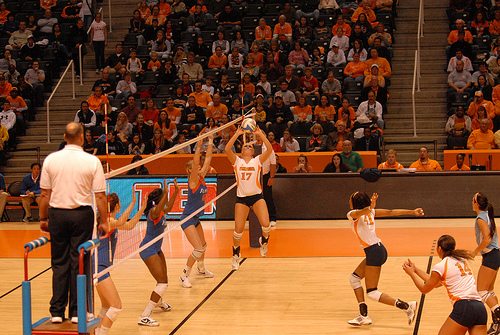 Tennessee setter # 17 is running her offense facing her middle blocker #41 and her left side hitter #14.
The left side hitter should know she is going to get the majority of the balls
set by the setter. 
Why?
Because at the beginning of each rally, when her team is in serve
receive the setter sets up at the net facing the left side of the court.
She sets up just right of the center of the net always keeping her left side
hitter and middle blocker in front of her.   Its easier for her to get the
ball out to the left side of the court, especially if she has just received an
imperfect pass which forces her to set the ball on the run. 
If she wants to set the right side player behind her she will have to deliver
a back set. 
A left side hitter on most high school and club teams should expect to
spike the ball quite often during each set. 
So another reason to do volleyball hitting drills is to build
up physical endurance, mental strength and confidence to hit a lot of
balls during a match. 
Not just hit the balls but to develop the fearlessness and emotional
toughness to repeatedly be in pressure filled games and be able to
terminate match winning points without backing down or being afraid. 
As an outside hitter you also need to get used to having two blockers

up against you when you hit since the opposing team will
anticipate you receiving the majority of sets. 
Just like the defensive players on a football team have eyes on the
opposing team's running back and expect him to run the ball or catch
the ball most of the time, the blockers on defense on a volleyball
team keep a special eye out, always watching and anticipating the ball
being set to the opposing volleyball team's left side hitter. 
There are volleyball hitting drills designed specifically for hitters to
develop the ability to hit past the block, through the seam of the block or
to tool the blocker's hands in an effort to score with their attack hit.  
These are just a few reasons why as a hitter you need to
be doing a lot of different volleyball hitting drills during practices.
You want to be ready for all types of situations and you need to prepare
to hit against a one-player, two-player or even three player block 
put up against you to try and stop your attack hits at the net. 
Beating The Block: Aim For The Seam
There are various ways for a spiker to beat the block.
Once you learn what your options are you will become a very confident
and effective hitter.
Indoor players should first look to exploit the holes in the block.
As an outside spiker when you go up to spike the ball you want to look
for holes in the seams between the middle blocker and the blocker in
front of you.
When blockers don't time their block so they jump up together the
space that is created between them is called the seam.
When you see a hole in the block or the seam you should aim your spike
right for that "seam" without fear.
Affiliate Disclosure
Before you continue reading, here is my disclosure about this section.
Read it before you continue on.
In this section below dedicated to volleyball hitting drills some of the
content contains affiliate links.
This means, if you buy a product after clicking my link, I might be paid
a "commission" on the sale.
I may also earn money from advertisements appearing on my blog.
I just wanted to let you know that and I thank you in advance for
your time and consideration.
Now for the good stuff...the volleyball hitting drills...

Beating The Block: Wipe The Ball Off The Blocker's Hands
The second thing indoor volleyball girls can do is use their  spike to use
the block to score a point.
Also called "tooling the block" or "tool the block" as a hitter you want to
get comfortable with the ability to "use" the opposing
blocker's hands to score a point.
You want to spike the ball like you do when you are going to hit down the
line.
Aim straight ahead at the outside blocking arm of your opposing
blocker.
Your spiking arm  motion "follow-through" should finish with your spiking
arm coming down across your body, so your right arm will finish at your
left hip. 
So when the ball comes back off the blocker's outside hand it comes
back  over your left shoulder  outside the sidelines of the court.
You don't want to twist your body, just let your arms do all the work.

When you learn to wipe the ball off the block its impossible for the
opposing team to dig this ball up and replay it in defense. 
I learned a ton from doing volleyball hitting drills when i was in college
with Penn State coach Russ Rose. 
Much of the way I coach now is inspired by alot of what I learned from
him as a player. 
It worked when I was a collegiate player and many of the techniques
and tips worked when I was professional player. 
Listen in as Russ shares some of  his coaching philosophy along with his
volleyball hitting drills. 
Volleyball Hitting Drills: Practice Tooling The Block
Features & Benefits

Learn position-specific drill progressions for improving hitter footwork and movement patterns
Teach your outsides to better understand and execute the responsibilities of passing and attacking, defending and attacking, and blocking and attacking
Get competitive drills for refining game skills and evaluating performance under pressure
with Russ Rose, Penn State University Head Coach;

2014 NCAA Champions; back-to-back NCAA Championship Coach (2013-14);
four consecutive NCAA Championships (2010, 2009, 2008, 2007) and seven overall;
5x AVCA National Coach of the Year, over 1000 career coaching victories,
recognized by USA Volleyball as one of their All-Time Great Coaches in 2005
Get an inside look at training powerful hitters from one of the most successful coaches in NCAA women's volleyball history.
Starting with the approach and swing and finishing with competitive team drills, coaching legend Russ Rose shows you how to get the best out of your outside hitters.
Characteristics of an Outside Hitter
Coach Rose begins with expectations for outside hitters and what they need to do on the court to be successful. His philosophy will provide you with a blueprint for developing great outside hitters.
Passing and Hitting Drills
Coach Rose showcases a series of drills that enable outside hitters to practice the movement patterns they need to master to be successful.
Blocking and Hitting Drills
This set of drills, which includes tip coverage to attack, digging to attack and blocking to attack, gives players opportunities to block from both the left side and middle before transitioning to a good attack position. 
Drills for Hitting Out of System
Out-of-system drills offer the opportunity for players other than setters to practice setting the ball to outside hitters. These drills also teach hitters how to adjust for an out-of-system ball.
This video came from Championship Productions' video
Position Training Drills: Outside Hitter - Volleyball -- Championship Productions, Inc.
Read more information on this video or view other volleyball videos. 
Mix Up Your Shots
As I mentioned earlier instead of actually spiking the ball all the time,
smart hitters know when to mix up their attack hits. 
should mix up their shots.
Smart players work hard in practice to make themselves unpredictable
and hard to read by the opposing team defense. 
If you go up to spike the ball every time you attack, then it's easy

for the other team to anticipate what you are going to do and easy to
set up a defense strategy against you.
But if you mix up your shots, like tipping the ball on a good set then its

harder for the opposing volleyball team to know how and when to
defend your  spikes and shots.
Volleyball Hitting Drills To Practice Mixing Up Your Shots
Features & Benefits

Train attack technique from the ground up for maximum repetitions and consistency!
Learn the progression of arm swing from wrist to elbow to shoulder to get maximum power from a whipping arm swing
See how to use the non-striking arm to steer the body into proper ball striking position
Get a series of box drills to improve body movement when airborne
with Silvia Johnson,
Metro Volleyball Club - Director (Washington, D.C., VA, MD), 
2015 Girl's Junior 18 National Champions; all of Johnson's players have gone on to play volleyball in college and beyond.
Served as Assistant Coach at American University (where she played); 

also played for Long Beach State on the undefeated 1998 NCAA Championship team.
Having the ability to break down the art of hitting will help your players become better all-around hitters.
You'll be able to teach hitting with this video's step-by-step guide, which works from the arm swing all the way down to footwork.
This video came from Championship Productions' video
Best of Club Volleyball: Attack Training Progressions - Volleyball -- Championship Productions, Inc.
Read more information on this video or view other volleyball videos. 

Spike To Deep Corners
Another important spiking strategy to practice to make yourself hard to
read is to learn how to spike to the deep corners of the court.
This is an effective skill for all volleyball players to learn, regardless of how
tall you are.
In volleyball hitting drills in practice, by training to hit high, deep and
long in the court, you train your body to automatically spike to the open
areas of the court.
One of the best volleyball hitting drills, I use in practices and in our
weekly Friday Night Lights Open gym at Stupak Community Center, that
will help you spike to the deep corners of the
court is to play deep court double or triples, or four players against four
players in volleyball practice.
Volleyball Hitting Drills To Practice Hitting Deep Corners
Features & Benefits

Help your middles develop essentials skills for success such as transition, approach, attacking, blocking, passing and running slides
Train your middles to be in a position to attack in all situations from serve receive to transition offense
Teach middles to block with independent hands to take away seam and cross-court attacks
with Dennis Hohenshelt,
University of Virginia Head Coach; former assistant coach at Penn State
Get all of the information you need to train your middles to perform their dual role as a blocking force and as an available quick attack option on every point.
Virginia Head Coach and former Penn State assistant coach Dennis Hohenshelt provides step-by-step instructions for attacking, blocking and transition footwork, arm swing, blocking hand positioning and even running slides.
Every skill in this presentation includes a complete explanation and demonstration.
The first part of the presentation focuses on the offensive aspects of the middle hitter position.
You'll learn effective practice drills for developing efficient footwork in middle hitters, which leads to dynamic approaches to the attack.
Warm-up Drills for Middles
Coach Hohenshelt begins with two warm-up drills that stress good approach footwork and attacking different locations on the court. 
Once in the correct position, middles will be able to easily hit with power to zone five or cut back to zone one.
This video came from Championship Productions' video
Position Training Drills: Middles - Volleyball -- Championship Productions, Inc.
Read more information on this video or view other volleyball videos. 

Get Good At Hitting Imperfect Sets
This also has to do with mixing up your shots.
To mix up your shots be prepared to to hit the imperfect out-of-system

sets,and instead be ready to tip the good 'in-system" sets.
This doesn't apply if you are spiking the ball against one blocker, if
that's the case then you should go ahead and spike the ball hard since
you have the advantage.
But, in a transition play against a double block, if you get a good set,

then consider tipping the ball.
Why? Because the defense is expecting you to spike the ball, because
just like you see you've been given a great set, so do they!
So they expect you to hit it hard and there's a good chance you will
catch them leaning back on their heels waiting to absorb your hard hit.
On the other hand, if your setter sets you a high ball that's a little off

the net, since its your job as the outside hitter to hit everything, this is
the imperfect set that you really want to spike.
As a spiker even after hours of volleyball hitting drills you can't expect
your setter to give you a perfect set every time you have to be ready
to anticipate the need to move in case your setter doesn't get the ball
all the way outside to you.
You want to include in your practice, volleyball hitting drills that help you
learn how to spike the ugly sets and tip the beautiful ones, so you
become unpredictable in the front row.
Volleyball Hitting Drills To Practice Hitting Out of System Sets
Features & Benefits

Develop complete left and right side hitters who can effectively block, pass, transition and attack
Teach your hitters a variety of different shots to use when they can't hit a set hard
Teach your left and right side hitters the correct way to play off blocker defense away from the set
Learn how outside hitters can transition from blocking and passing to hitting
with Nancy Dorsey,

St. James Academy (KS) Head Coach;
2015 AVCA National High School Coach of the Year;
2015 Kansas Class 5A state champions;
seven state titles in nine years 2008-15 (finished runner up twice);
2x PrepVolleyball.com National Champions (2013, 2010);
VBM 2013 High School Team of the Year; American Family Insurance 2013 All-USA Volleyball Coach of the Year;
won 56 straight matches from 2012-13; lost only one set in 2013 (finishing 96-1); over 420 career wins
One of the most successful high school coaches in the country, Nancy Dorsey, presents an in-depth tutorial training left and right side hitters - mentally and physically.
This video came from Championship Productions' video
How to Train a Pin Player - Volleyball -- Championship Productions, Inc.
Read more information on this video or view other volleyball videos. 

I teach a lot of volleyball technique when I coach and conduct
volleyball hitting drills in my private training and boot camp classes. 
So do some of the top collegiate and USA High Performance volleyball
coaches that I admire and respect. 
On this page,  I've linked to a few  Championship Productions

videos authored by those coaches I feel teach are great technique
instructors who discuss and teach volleyball hitting drills that I feel are
actually beneficial for you. 
Volleyball: Attacking
Return To Volleyball Drills From 
Volleyball Hitting Drills For Individual Spike Training
Return To Improve Your Volleyball From 
Volleyball Hitting Drills For Individual Spike Training