A Setters In Volleyball Setters Checklist On How To Set A Volleyball
This setters in volleyball training checklist provides you four ways to improve your setting skills. For non volleyball setters and for setters learn how to set.
The volleyball setters role is to set the ball to a front row or backrow hitter who's responsible for attacking the ball so it lands on the opposing team's court floor in an attempt to score a point.
Here's a brief summary of what to do with your upper body and lower body when you are setting the ball. 
A Setters in Volleyball Training Checklist:
What To Do With Your Lower Body

Turn your legs so that they are perpendicular to the net, facing your zone 4, which is the left side of your court
Your legs and lower body should be balanced underneath you as they possess the strength needed to help you get the ball to one of the outside hitters, when you jump set.
The setters job now is to "set the volleyball" to one of your front row hitters which is usually the second of the three contacts a team has according to basic volleyball rules.
Volleyball setters, can actually see their left side hitters and their middle hitters because they are facing their zone 4 on their side of the court, but because they always line up this way, their back is to their right side hitter. 
To set the ball behind you to your right side hitter or deliver any balls to zone 2 you will do so by backsetting the ball back over your head. 
A Setters in Volleyball Training Checklist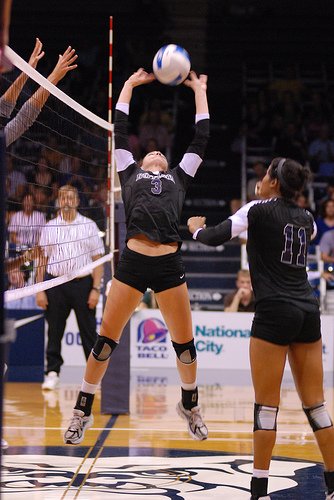 To set, you use your legs to get your body directly lined up underneath the ball.
When the ball comes down it should come down right to your outstretched arms into your turned up hands, that's where you want to place yourself as a setter, underneath the path of the ball as it comes down from the pass.
Volleyball setters need to develop hand, arm, wrist and shoulder strength to be able to push the ball from antenna to antenna or pin to pin the further away you are from your target. 
Do You Follow Me on Instagram?
Follow me on Instagram @coach_apchap to improve your game even faster!
I share alot of individual, partner and easy-to-do volleyball serving drills we do in class with my followers.
Many of these volleyball practice drills you can do at home by yourself or try at your next practice with your teammates.

If you're a B team or JV player trying to make varsity next year...your goal should be to complete 1000 reps a day of at least three of the basic skills on your own...volleyball passing, serving and setting should be at the top of the list. 
Volleyball Positions: 
Where Should You Go From Here?